The building covers an area of 856,280 square metres, measuring 70 metres in length and 27 in breadth. The height of the tower is 48 metres, the drawing room is 15 by 7.20 metres, and the courtyard, with a portico and an elegant renaissance well, measures 17 by 10 metres.

A spiral staircase leads to the grand stone doorway that bears the coat of arms of the Passerini family (of which the upper section houses the insignia of the Medici family) sculpted in its keystone.

The interior of the villa is similarly understated and awesome, yet its architecture is more developed. The ground floor was largely reserved for the stables. The main living areas are on the top floor: the drawing room, the Billiards room, the Cardinal's room and the chapel.

Of these the drawing room is the most prestigious. The upper walls are decorated with 16 2-metre squared frescoes by Papacello, depicting episodes from Roman history and legend. On the lower walls are painted 16 stunning trompe-l'oeil, remarkable for their verisimilitude, fugues of pillars and background landscapes, and for their visual effect and warm tonalities.

The Cardinal's room is situated at the back, to the east, and is decorated with a trompe-l'oeil of pillars and rural scenes. The centre of the ceiling depicts Apollo on his cart and four horses, surrounded by the signs of the zodiac and the four seasons.

The furnishing of the Palazzone consists of numerous and noteworthy pieces of furniture and artwork: paintings (originals and copies), settles, sixteenth century wardrobes and chairs, mirrors, knick-knacks, clocks, fine beds and sofas, etruscan urns and all kinds of curiosities.

Nor should one forget the beautiful inner courtyard with its renaissance portico and central well. An Italian style garden with an open portico can be found behind the building.

The chapel reveals the last work of L. Signorelli, The Baptism of Jesus, a fresco which the great artist was unable to complete, because he fell from the scaffolding whilst painting. The work was completed by his apprentices.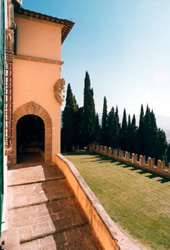 The building was recently donated by count Lorenzo Passerini and today belongs to the Scuola Normale Superiore