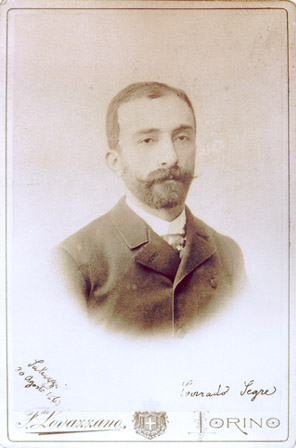 This conference aims at paying a tribute to Corrado Segre on the occasion of his sesquicentennial birthday anniversary. Corrado Segre is widely recognized as one of the founders of the Italian School of Algebraic Geometry, where he counted G. Castelnuovo as an assistant, F. Enriques as a postdoc, F. Severi as a student, G. Fano and A. Terracini as students and colleagues. Moreover Corrado Segre is regarded as a crucial figure in the scientific evolution and in the history of Algebraic Geometry. He was appointed professor of "Geometria Superiore" ("Higher Geometry") in Turin in 1888 and he held this position for the next 36 years until his death. Still today his scientific heritage is unvaluable.
Registration

There is no registration fee or registration form, if you are interested in participate send an e-mail to

marina.marchisio at unito.it

If you would like to attend the conference dinner (8.00 pm on friday) please send an e-mail to

letterio.gatto at polito.it
&nbsp

&nbsp

....
..
....
..

Organized by: Accademia delle Scienze di Torino, Universit&agrave di Torino, Politecnico di Torino, Centro per la storia dell'Universit&agrave di Torino,
G.N.S.A.G.A. of I.N.D.A.M. Progetto PRIN Geometria delle Varietà Algebriche,
Progetto PRIN Scuole matematiche e identit&agrave nazionale nell' Italia moderna e contemporanea


Scientific Organization: Gianfranco Casnati, Alberto Conte, Letterio Gatto, Livia Giacardi, Marina Marchisio, Alessandro Verra